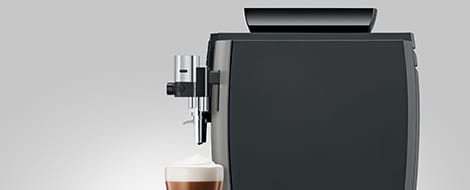 Fijnschuimopschuimer G2
De nieuwe opschuimer voor fijn schuim G2 is gemaakt van de hoogste kwaliteit materialen en heeft een verbluffende look en feel. Speciaal ontworpen voor de bereiding van koffiespecialiteiten met melkschuim, maakt hij cappuccino en andere dranken met het allerbeste schuim met fijne textuur.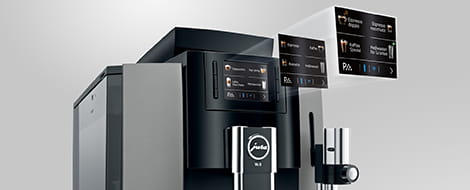 Voor liefhebbers van speciale koffie
De succesvolle automaat voor op kantoor is nu nog perfecter. De WE8 bereidt nu in totaal 16 verschillende specialiteiten met één druk op de knop. Het biedt nu macchiato, espresso doppio, speciale koffie en heet water voor groene thee met één druk op de knop.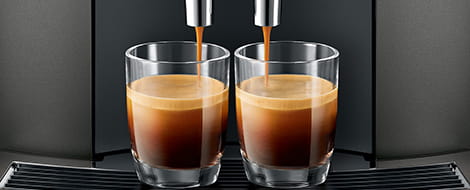 Modernste technologieën voor volmaakt genot
Of het nu gaat om de One-Touch Cappuccino-functie voor trendspecialiteiten zoals latte macchiato, flat white en cappuccino of het Pulse Extraction Process (P.E.P.®) die de extractietijd optimaliseert en het allerbeste aroma garandeert voor korte koffiespecialiteiten – uitgerust met de nieuwste JURA-technologieën tovert de nieuwe WE8 met één druk op de knop een indrukwekkend assortiment koffiespecialiteiten tevoorschijn.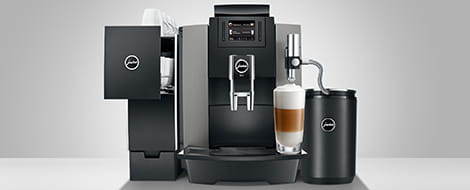 Net zo individueel als uw wensen
Omdat de vereisten van situatie tot situatie verschillen, biedt de WE8 veel opties voor programmering en maatwerk. De hoeveelheid gemalen koffie en water kan worden aangepast aan persoonlijke voorkeuren en de gebruikte kopjes en glazen. Het is ook mogelijk om de voorkeur te geven aan bepaalde koffiespecialiteiten door andere uit te schakelen. Op verzoek zijn er verschillende modi beschikbaar waarmee alleen voorinstellingen en kopjesvolumes kunnen worden gewijzigd na het invoeren van een bepaalde toetsencombinatie.